We moved into a spacious rental home this month and are still getting settled in (which is why my blog has been so quiet the last few weeks, our family has been busy). We applied for this property the first week in January, got approved shortly after, and picked up our keys on the 16th. It has been an exciting and eventful way to start 2014.
Going from a 900 square foot townhouse to a 1,500 square foot two story house with a garage and a backyard is incredible. There are 3 bedrooms, 2 full bathrooms, and laundry room upstairs. Downstairs we have a super open floor plan and an awesome view of our neighborhood park from our backyard. More pictures to come, but here are a few of the downstairs space.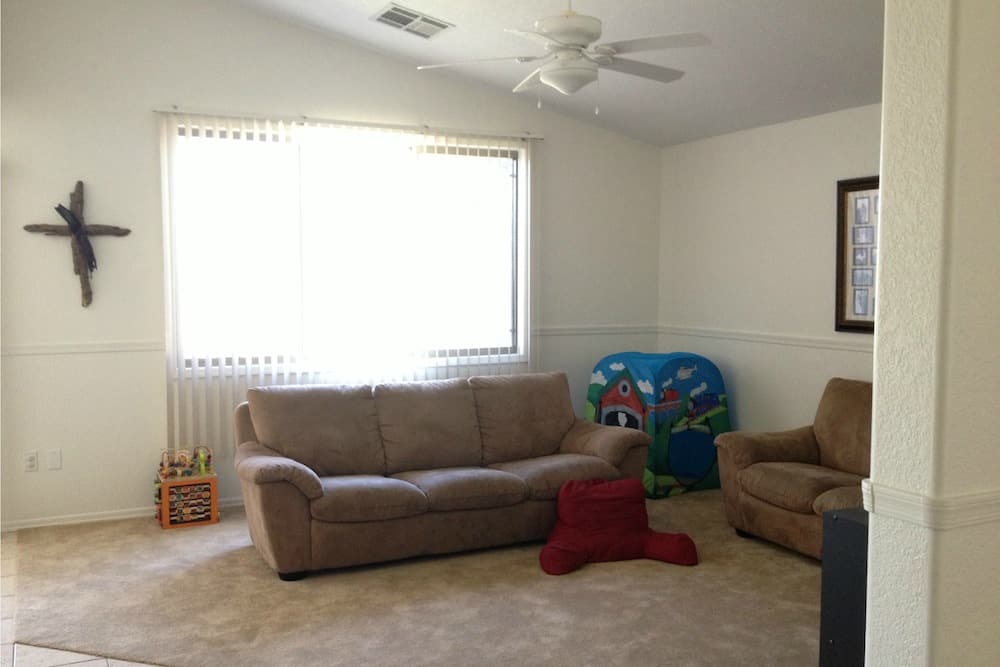 The amazing thing about this move was that it allowed me to get rid of so many items I had been holding because I might use them in the future. Let's be honest, if it hadn't seen the light of day in 5 years there was a solid chance it never would. We made numerous trips to Goodwill and it feels so great to be rid of excess clothes, toys, shoes, and bunches of other miscellaneous items.
One afternoon while Josh and I were sorting and packing up our items he came into our closet and found me hysterically crying on the floor. I love that man so much. He came over and just held me as I cried and blubbered on about how stressed I was and how I didn't think we would ever get all of our stuff packed. Well of course we got everything packed, moved, and as of now the majority of our things are in the correct rooms.
We still have several boxes to unpack, pictures to hang, and a nursery to put together but we have beds to sleep in, sofas to sit on, and hallelujah, we have a garage to park our cars in. When we started to make our list of what we wanted in our next house a garage was at the top of our list. I am so thankful to be able to have a garage now especially with the new baby on the way.
A few highlights from our move: we didn't have hot water for 2 days because neither of us realized we have a gas water heater, a few of the ceramic tiles in the entry way have shifted and have come out of the floor (we suspect the same thing will soon happen in the kitchen, if you look closely at the first picture you can see a few of the tiles), and the master bath has no hot water. Despite these things we are still happy. We know it doesn't have to be perfect to be wonderful. Plus we are loving having a landlord who is responsible for all the repairs.
Thanks for reading! I will be back tomorrow with a pregnancy bumpdate! You can also find me on Bloglovin, Facebook, and Instagram.