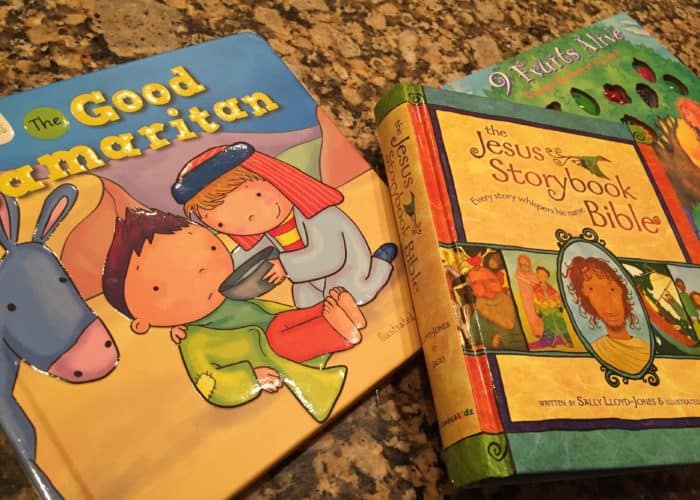 Josh and I were both raised going to church but neither of our families had a specific time each week that was spent at home worshiping together as a family. We both really liked the idea of having weekly family devotions but didn't really have any clue where to start.
So I went and looked where most 32 year olds go when they have a question, yep, I googled it. I googled books, websites, and blogs and I soon discovered that there wasn't very much available for families with a toddler and preschooler. Or at least there wasn't much that I thought our kids would have the attention span for.
Since Josh and I had never experienced doing family devotions with our own families growing up we figured that as long as we were filling our home with Jesus and God's Word and including our children we didn't really need a book to tell us how to do it. But…we still needed to have a plan.
First I decided that the Fruit of the Spirit would be a great starting place for our family.
Galatians 5:22-23 (NLT)

But the Holy Spirit produces this kind of fruit in our lives: love, joy, peace, patience, kindness, goodness, faithfulness, gentleness, and self-control. There is no law against these things!
With 9 separate topics to cover I was well on my way to outlining our family devotions for the next several months. I have found that repeating the same verse, story, or prayer to our kids is the best way for them to memorize and learn. For this reason we are going to spend 3 weeks on each Fruit of the Spirit. I made 9 separate lessons and our family will be doing each lesson once a week, for three weeks, before moving on to the next.
I am also extending the time between each lesson because in November we are adding a new baby to our family. I am choosing to extend extra grace to myself during this time.
Each of our Fruit of the Spirit lessons will feature a time of worship, a bible story, memory verse, prayer, and also an additional activity that can be incorporated into the family devotional time or done separately. Last week we sat down as a family after dinner and had our first family worship time together in our home. It took us a total of 20 minutes start to finish.
I created this for our family to use with our preschooler (4 year old) and toddler (2 year old) but started thinking there might be other families who would be interested in doing this with us. This is why I am going to be sharing all the lesson plans here on the blog.
You can follow along with our family on our schedule or however it works best for your family. More details are below and even more details can be found in the main menu under Family Devotions.
FRUIT OF THE SPIRIT LESSONS
Once the date is reached the post will turn into a link that you can click on. There are affiliate links to the books and supplies we will be using for our devotions in this post for your convenience.
Lesson 1: LOVE (September 7)
Lesson 2: JOY (September 28)
Lesson 3: PEACE (October 19)
Lesson 4: PATIENCE (November 9)
*break for Christmas and New Years*
Lesson 5: KINDNESS (January 11)
Lesson 6: GOODNESS (February 1)
Lesson 7: FAITHFULNESS (February 22)
Lesson 8: GENTLENESS (March 15)
Lesson 9: SELF-CONTROL (April 5)
SUPPLIES
Below are the Supplies + Resources for our Fruits of the Spirit Family Devotional Unit.
If you plan on doing this with us I would be thrilled to see any photos you would like to share.
Follow on Instagram – I would love to see any pictures you take of your family doing this so please feel free to tag me @theworkoutmama.
Does your family do devotions together? I would love to hear what you do!